BJJ Port Coquitlam
Gary Herman with Rickson Gracie back in 1994.
BJJ tactical fighting.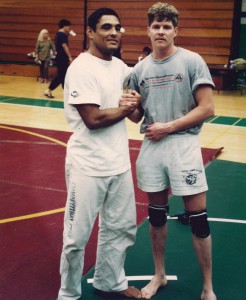 Rickson was one of the most humble individuals I have ever met to this day. To listen, watch and feel his ground fighting abilities was an incredible and amazing experience. I am always proud that my introduction to Gracie Jiu Jitsu was with him on numerous occasions, a great man who has a great family is very easy to respect and honor.
Back in those day I would have never heard of this art if it wasn't for Paul Vunak who suggested to his instructors that "we should seek out Rickson Gracie and his art of Gracie Jiu Jitsu".
Being a small world, even our Brazilian Jiu jitsu instructor Megaton Dias had us rolling at Rickson's academy back in that 1997 – 2000 era.
Megaton's primary instructor is Royler Gracie as the family training circle continues; it is great to have experienced his brotherly energy and teachings.
Feeling blessed as I was rolling tonight, choking and locking.
Join us at Tactical Fighting Martial Training in Port Coquitlam and expand your martial abilities and knowledge!! BJJ tactical fighting!
Cheers my friends,
Gary Herman                                                                                                               Black Belt Brazilian Jiu Jitsu